So, our 3D printed Ruger 10/22 ended up finishing. From a durability standpoint, it was solid. Definitely would have been able to withstand the recoil of a .22 lr round.
There was just one problem: shrinkage.
ABS filament tends to shrink and warp if the printer's ambient temperature isn't perfect. Any draft or sudden temperature fluctuation can cause the print to warp or shrink.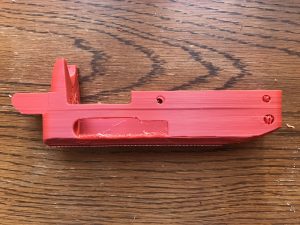 As you can see in the picture on the right, there is a point about halfway up the print where the width changes. For whatever reason, the first half of the print shrank significantly more than the second half.
The finish wasn't perfect, but that could have been fixed with a little sand paper. However neither the bolt, nor the barrel, could fit into the receiver. Even though we printed the model at 101% to account for shrinkage, that apparently wasn't enough.
So, back to the drawing board.
One thing I didn't like about the model we originally settled on was just how much support material was required. It's one thing to get a nice first layer on a heated bed. It's an entirely different matter to have the majority of the model's bottom layer come a centimeter above the build plate on top of ambient-temp support material. It is impossible to keep the support material at the same temperature as the bed. Most of the shrinkage and warping we experienced came where the model itself met the support structure.
So, we settled on a flat-top design. It shouldn't affect the function of the gun, it just won't look as sexy as the rounded top or rail-top versions. But, we should be able to cut down on print time and get better bottom layers by eliminating the support material under the receiver.

So, the printer is currently running. We'll have a finished product tonight and if all goes well, we should be able to shoot it tomorrow.