So, I have always been a C&R guy. I love collecting WWII and WWI firearms. My two absolutely favorite guns to shoot are my 1943 Springfield Garand and my 1942 Mednogorsk/Tula SVT-40. But the first firearm I ever purchased was a Stag Arms AR-15, so there is a soft spot in my heart for the AR platform. My Stag is dead-on accurate and hasn't ever jammed on me.
But, since I bought it when I lived in the People's Republik of New Jersey, I had to purchase the 'neutered' model. No collapsable buttstock, muzzle brake had to be pinned and welded, no bayonet lug, etc.
It's been 2 years since leaving New Jermany and moving to Free America, and while I've acquired a number of awesome guns since then – both modern and C&R – I hadn't ever really sat down and planned out how I intended to de-neuter my AR-15.
The more I thought about it, the more I realized that I would rather just build a new rifle from scratch, rather than turn my Stag into a Frankenrifle.
When I factored in the cost of replacing the A2 front sight to add a bayonet lug and then taking a dremel to the pinned brake, I realized it would just be much easier, and cheaper for that matter, to purchase a replacement M4 barrel and then just call it a day.
Instead of taking a rifle I already paid for and upgrading it, I'd much rather build a new one from scratch to my own specs. So, that is what this series of posts will be about.
I'm starting with just a simple Anderson lower that I purchased from Aimsurplus for $39.99.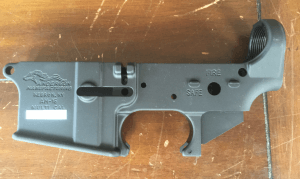 I bought two lowers, actually. One will be my dedicated lower for my .50 Beowulf upper. The other will be my build from scratch. All told, factoring in shipping and transfer fees, these lowers came out to 59.99 a piece, which is a great deal and $30 lower than what they go for locally.
Not much to write home about, but it should fit my needs perfectly.
There are already a bunch of websites announcing 4th of July sales, so I will probably be ordering a bunch of parts for the build this weekend and post more updates on the other side of the Independence Day holiday.
Still not sure whether I want to go with 5.56 or take the leap to .300 BLK. Considering that I just purchased a Silencerco Hybrid, I am really leaning towards .300 BLK.
Oh well, add another caliber to the list…